Vans RV7 Adventure Flight
What induced us to start this project?
All of us are at heart adventurers. And so are we. With so many hours of accumulated experience over years, flying through Europe, it was time to explore the world.
Another goal is to promote the General Aviation. Like an ambassador we will connect all pilots of the world together, since we have all the same in mind, indipendent of country, colour or religion.
Only together and with a lot of publicity we can win the battle against the fees in the air, and keep flying at an affordable price.
We do a lot to promote General Aviation worldwide.
About seventy TV appearances so far, three hundred articles in newspapers and a vast number of internet publicity show people that you need not be a millionaire to fly, and that your dream can come true.
We started our flight in Punta Gorda, Florida. From the Dominican Republic we did explore like Columbus, whole South- and North America. But, read our blog……
We have only a very small budget. That means we cannot stay in hotels and rent a car. Some things are also possible with a low budget and of course with the help of fellow pilots and people who know what it means to backpack through the world.
The page FLYING FRIENDS is dedicated to all of them.
Our goal is not to hop from one big airport to the other, but to stay one or two days in a place, visit the country and meet many people, who can show us the beauty of their country. That means, the most important thing to us, on this journey is to meet people and pilots all over the world. Share experiences, talking and eating together.
Vans RV7 Flight Adventure - Documentary
Watch trailer of the RV7 flight documentary here: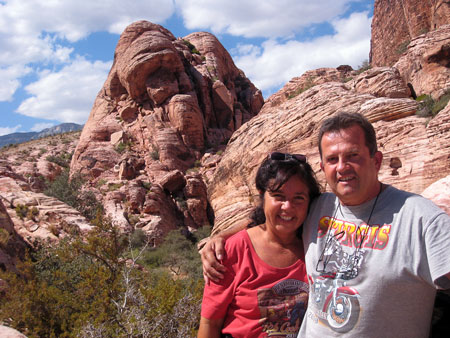 Red Rocks nearby Las Vegas
Our wish is to land on small airfields, where we can put up our tent and explore the country side with bikes, take pictures and do as much filming as possible. And we are sure that we will return with the most precious jewels:many friends all over the world
We would love to receive emails from all of you, with information, on your own experiences and of course to meet someday, somewhere....The world awaits us and we are eager to see it.
The journey will take approximately 4 years, with crossing every longitude and latitude. Our starting point was Florida, USA on 31.March 2009 and the routes will be as follows:
USA - Bahamas – Dominican Republic – Guyana – Surinam – Brazil – Argentina – Antarctica with landing on the South Pole – back to Argentina - Chile – Peru – Ecuador – Panama - Costa Rica – Nicaragua – Belize – Mexico – USA – Canada - Greenland – Island - Europe - Turkey - Saudi Arabia - Oman - Pakistan - India - Maldives - Sri Lanka - Thailand - Indonesia - Australia - Tasmania - New Zealand - most of all South Pacific Islands - Borneo - Philippines - China - Japan - Alaska – Canada and back to USA.
A total of approximately 150.000 miles or 240.000 kilometers. This means about 6 times around the world.
Normally we sleep in our tent, but we would be incredibly happy to enjoy one or two nights in a comfortable bed with a nice hot shower!!!