GUADELOUPE
We are in France!
We were heading to Saint Francois, when suddenly the flaps did not lower. The runway of 2000 feet a little too short to land without flaps. Half turn and we land in Pointe a Pitre. Laurent, the tower guy, came immediately to our rescue, and helped us get a multimeter. We can stay for the night in the tower. Great!
But some minutes lates Stephne Leconte appeared." What, in the tower, not at all, you are invited to my house and also to a supper!" Woah, what a supper a real first class french cuisine and wines....! And the coffee with croissant the next day... Everything was perfect.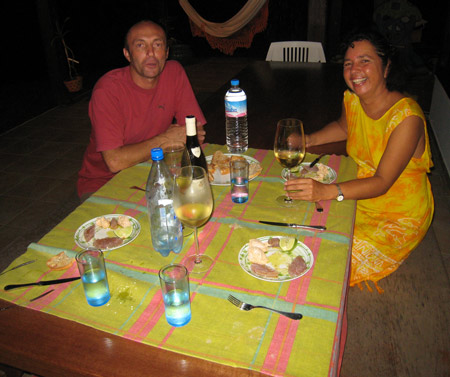 I did not forget the arepas night by Roberto and Enrique in the Dominican Republic. This was an Venezuelan/Argentinian supper. Don´t ask me which was better, both were great.
Here is Detlef crawling inside an old Piper looking for a circuit breaker. This is our only chance to get one, or to fly without flaps. Problem solved thanks to the mecanic of the Guadeloupe Flying Club.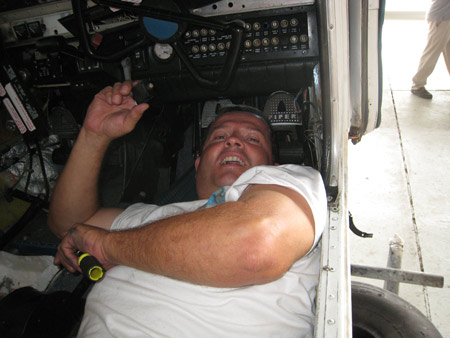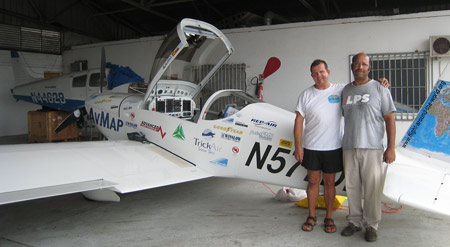 Here we arrived to Marie Galante. People have forgotten here how to smile and to be friendly. We put up our tent near the fire department, since the tower man looked up to us with an angry face and said NO WAY to camp on this airport, althought there was space enough.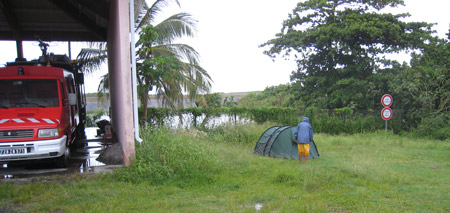 The cleaning lady was all the time giving us a hard time with the toilet, she just did not want us to use it. Thanks to the airport manager, the ONLY friendly guy, we could stay one night in the hangar, since it was pouring rain, and the tent with us may have been washed away.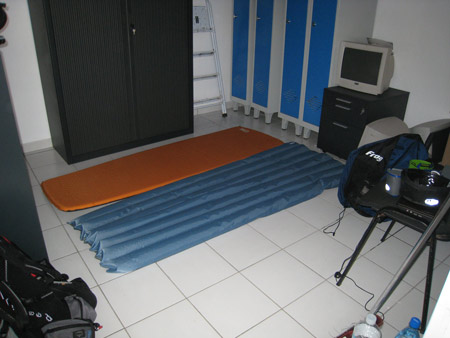 It was a long day: we had to stay in the tent until 11 a.m. : the heavy rain and strong wind made us prisoner of our small green place.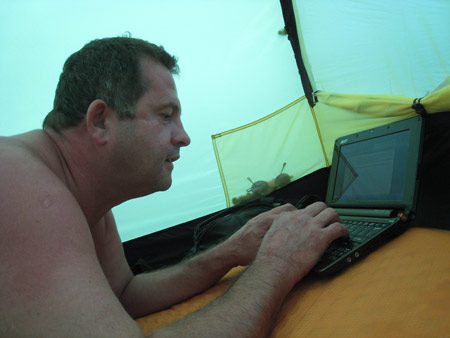 Here I am working on the website,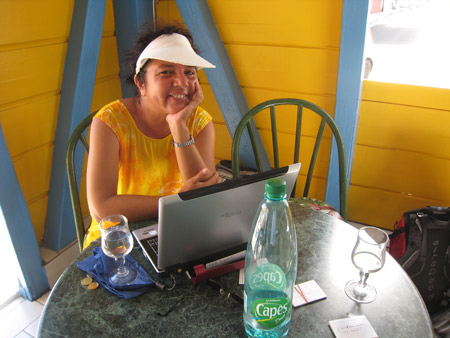 bringing fuel to the airplane,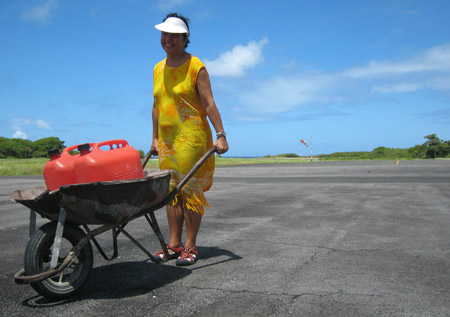 while Detlef is having a good time.... Cest la vie! But a had a free day, I could ride 10KM to the next village to buy some fruits at the local market. Finally I got to relax. I cook some noodles under the rain (unfortunately no picture, we do not want that the camera gets wet, do we??!!!)
Back to Logs at a glance