CHILE
We arrived to Chile on Sunday 27th march. The first thing that happened after landing was that the guy of customs told us to take everything out to check it. No fresh fruit, no meat, no cheese. Good bye to our lunch, to our juicy sandwiches, to our bananas, to our almonds. Anyway the customs guy was very friendly and even if we had to starve for the day, we didn´t mind.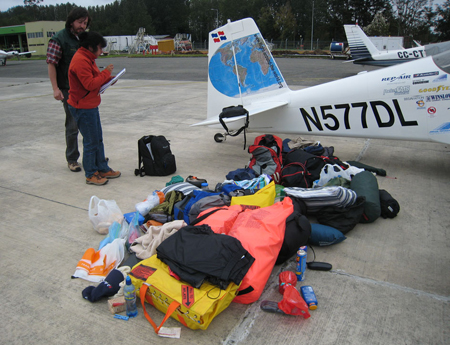 After leaving Puerto Montt and the custom guy, our next airport was Purranque. There we were invited by Eduardo and Claudia, and had a great evening with the guys of the club. All where german descendants and Detlef could speak for the first time his head off.
We went with Eduardo to Frutillar. The lake Purranque and the volacano in the background, what a scenery.
Chillan should have been our next stop, but the clouds covered the scenery up to the "cordillera" Andes mountains, so we continued our flight until Santiago. Cities are not in our schedule, but our tanks were almost empty and after a good night sleep we continued our way to Atacama, yes the famous Atacama desert.
We landed somewhere in the middle of nowhere. Caldera. It was an awful landing with the sun just in front. It was almost a blind landing. We made it! We saw a hangar and luckily someone was there too. A hangar for our little plane and a comfortable bed for us, which were offered by the hangars owner.
Three days later we departed, the weather was better and Arica was awaiting us, the last airport of Chile.
Our flight authorization for Peru should have been made in two days, but Peru has no private aviation. It it quite diffiult to get the information one would like to have. 5 days in Arica, a noisy city, with nothing much to see. The streets were filled up with people coming down from the mining city of Calama to spend some holidays .Here are the biggest copper mines of Chile.
Finally the flight authorization came, we can fly to Peru.
Back to Logs at a glance