READY TO LEAVE
After the day of our first flight, we have been quite busy doing all our test flights. We have made the wheel pants, installed camara mount underneath the wing, remote control for camara, fastenings for the luggage, and removed all the existing bugs.
In the meantime Detlef had his 50th birthday, and we celebrated it at home with some friends.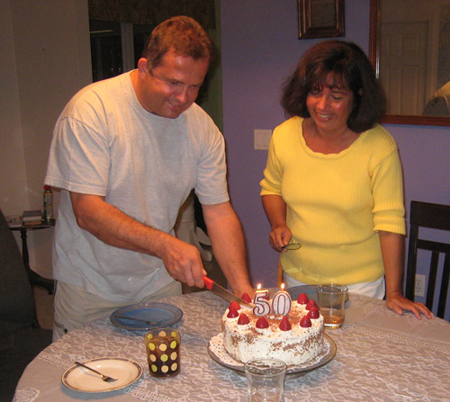 On the 10th March we got our liferaft from Winslow. It was kindly sponsored from them and we know it is one of the best liferafts that you can get. See their home site. Although we hope never to know how good their liferaft is.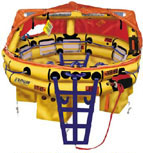 On the 13th March we were invited to the radio where we talked about our world flight. It was our first radio talk and it was quite exciting.
14th March!!!! Our Departure Party!! John and JoAnn gave us a wonderful surprise and brought us this incredible cake John brought also the champaign and so we could baptize our baby to the name of "Fliegli" ( a cute name in german for airplane). We had a wonderful party and are happy to have made so many friends.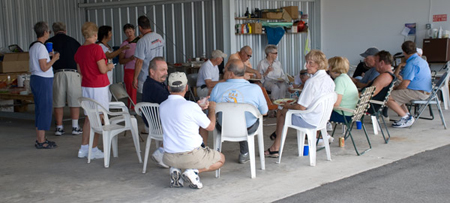 Of course everybody wanted to see the airplane inside and out. And at last the cutting of the big cake!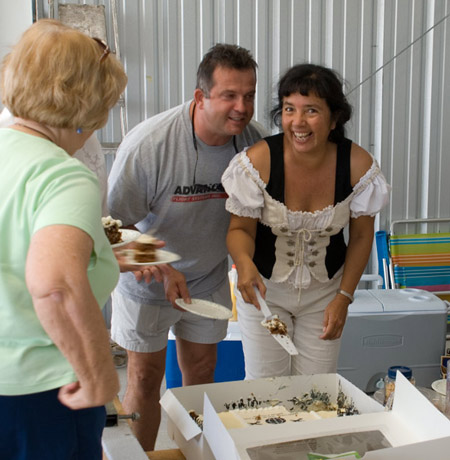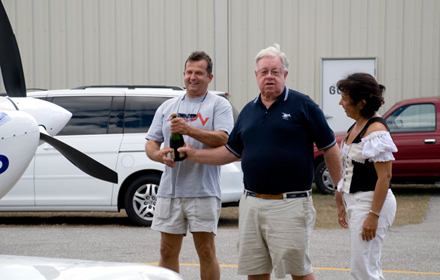 16th March we went to Sarasotaavionics to do the pitot and transponder check. Kirk offered us his help, for which we are more than greatful. A great shop for avionic installation with so many friendly people.
19th March. We flew to Heavens Landing, and just as the words, it is the heaven for any pilot. A wonderful airstrip in the middle of a forest, where you can have your hangar and house. Good restaurants, big lakes and everything you need is just there. We had two lovely days with Mike and Holly and met some wonderful people, and of course, Fish an Rvator in his first building stage of an RV7 and a professional bonfire man!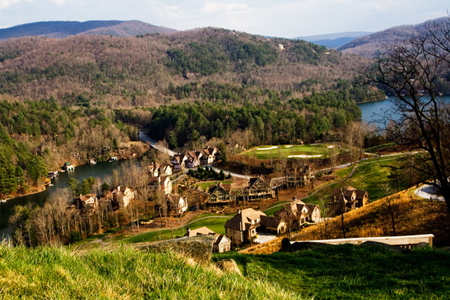 Then we went to Airflow Performane in Spartenburg, South Carolina. Don made the nozzle tuning and now, instead of burning 7 gallons per hour, we are burning 5.5 Gallons. Don knows his job and we are more than happy to use his injection system. On our long legs this is a very important factor.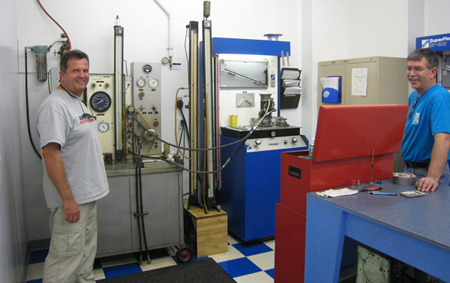 We are ready to leave... In this period of our last building stage we have made some very good friends and could enjoy the company of so many great people. We are greatful to our sponsors for trusting us and make our way easier and to all our friends in Punta Gorda, which were there each time we needed their help, and to others who made us feel great and let us enjoy their wonderful company. For this we feel sad, but internet makes possible to shorten the distances. We will keep in touch with all of you.
Back to Logs at a glance